Calling All Poets to Denver's Open Mics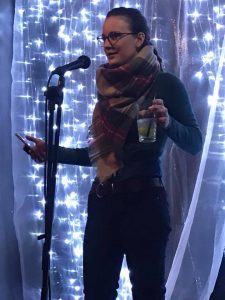 A poet's natural habitat looks something like this: sitting with a bent neck, cold coffee within reach, diving into oneself, backspacing with burrowed brow or crumbling papers to toss into the full wastepaper basket in the corner. It's a process of passion, and an intimately solitary one at that.
Too often poets' efforts remain confined to the page; it might seem unnatural to share one's poetry at all let alone aloud with strangers.  However, I'm here to advocate for Denver poetry activism. Here I'll review the ample reasons & rewards to reading for an audience:
Stepping onto a stage, holding a microphone to your lips and speaking your piece is a daring, vulnerable act that is well worth the symptoms of performance anxiety. A racing heart, trembling fingers, and maybe a few stutters cannot compare against the warm reception from the room–the snaps, and applause of approval that follows.

Anne Frank said, "Paper is more patient than people," but poets, listen: we may be underestimating our peers. These people are best qualified to listen to your work. Just as you reserve the right to share your poetry, these people deserve the privilege of hearing it. So, rest assured knowing that those in attendance have specifically showed because they're interested in what you do and in hearing what you have to say.

You'll find support, acceptance, encouragement, and inspiration in this     The positivity will ignite the embers of your craft. Come, listen, share, and nestle into all the fresh expression and swarming emotions.

Get exposure. You can turn friendly faces in the crowd into fans. Whether you realize it now or not, you write with a greater purpose than satisfying your artistic urges. Find that purpose and get better acquainted with it by studying your audience's reactions.

Step into your cohort. Poets, your future friends are at these events. Whether you end up on stage or not, these are your people. I cannot emphasize how vital it is for poets to befriend other poets. They'll help you grow, whether by reviewing drafts, recommending poets to check out, discussing poetry and writing technique, or just being a pal when you need it. The most beautiful friendships can happen between writers. Take Sylvia Plath and Anne Sexton, Hemingway and Fitzgerald, J.R.R Tolkien and C.S Lewis, or Elizabeth Bishop and Robert Lowell as only a handful of famous examples.
In summary, Poetry is rewarding to write, and perhaps more rewarding to share. Luckily for local poets, Denver has an active, flourishing community. Some places to check out:
Open Mic
@ Innisfree Bookstore
(1301 Pennslyvania Ave.)
Every Tuesday
sign up to read @6:30, event starts @7PM
Various Open Mics
@ The Gypsy House
(1279 Marion st. (the corner of 13th and Marion)
1st, 3rd & 4th Tuesdays & Last Wednesdays
sign ups @7:30PM, event starts @8PM
Open Mic
@ Tattered Cover
(2526 E Colfax Ave)
Every Last Tuesday
sign ups @6:30, event starts @7PM
Open Mic
@Mercury Cafe
(2199 California St.)
Every Friday Night
sign ups @9:30PM, event starts @10PM
Cafe Cultura Open Mic
@Inner City Parish
(9th & Galapago)
Every 2nd Friday
sign-ups @ 6:30, event starts @7:30PM
Happy Hour & Reading
@Book Bar
(4280 Tennyson Street)
a part of their "first saturday series"
Happy Hour starts at 4:30, reading starts at 5:30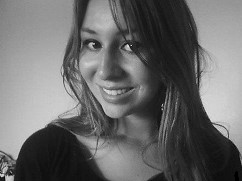 Bianca Glinskas hails from sunny Southern California, where she studied English and Creative Writing at California State University of Long Beach.  Bianca's work has appeared in literary magazines including 
Knock Your Socks Off,
Ordinary Madness,
 and 
Glass Mountain Magazine.
Bianca's column arose as a natural attempt to answer the call of Denver's lively, pulsating literary scene. When she isn't reading or writing, Bianca enjoys doing yoga, playing viola, exploring the outdoors, drinking at breweries, and holing up in coffee shops for hours on end. For any inquiries regarding Bianca's coverage of Denver's literary scene, please do not hesitate to contact her directly at 
bglinskas@gmail.com
.