Brunch Never Tasted So Good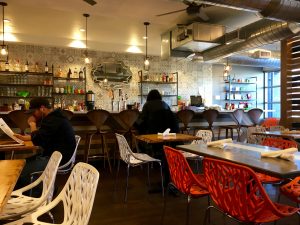 Finding a delicious southern style brunch spot can be tricky in Denver, unless you know where to look. Right off of South University Blvd next to the DU campus sits the gem called Four Friends Kitchen. Started by (you guessed it) four friends, this family friendly neighborhood spot has mouth watering breakfast options you need to try before you die. From grits that are cooked all night, to hot and fresh beignets, you can tell that this restaurant knows what it's doing when it comes to southern comfort food.
As I walked into the restaurant, I was immediately drawn to the beautifully decorated space. It was covered with a mix of modern and eclectic furniture pieces as well as colorful artwork all around the walls. It felt very fun and inviting. We sat down and looked at the menu, deciding which of the options would be the winner. Overwhelmed by the thought of having to choose just one dish, it took the waitress coming over three times before we were actually ready to order. Poutine, biscuits and gravy, pancakes, eggs benedict, five different types of grits, and omelets were among some of the top contenders. We eventually decided we had to get the beignets and the hushpuppies, because you can't go to a southern style restaurant and skip out on those staples. I also ended up ordering the breakfast sandwich, because the home-made potato bread and the side of BBQ potatoes sounded amazing.
I ordered,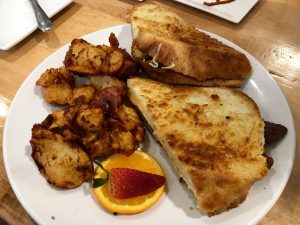 -Classic Beignets: Warm "FFK" classic donuts, with house wild berry preserves and creme anglaise
-Jalapeño Chorizo Hushpuppies: House made hushpuppies with ranchero and apple coleslaw
-University Breakfast Sandwich: House made potato bread, two fried eggs, maple smoked bacon, and blended cheese
The beignets and hushpuppies arrived, and we immediately dug in. The hushpuppies tasted a lot like a falafel to me because of the jalapeño and chorizo flavors, but was delicious nonetheless. The beignets were a game changer though. Hot and doughy with a thick layer of powdered sugar, I think I died and went to heaven eating them. The house made wild berry preserve was an amazing addition, especially when dipped with the creme anglaise. Soon after, our main course arrived. My sandwich was huge, the bread looked buttery and fresh, and the potatoes smelled great. I tasted the potatoes first, and was very pleased. The outsides were crunchy, and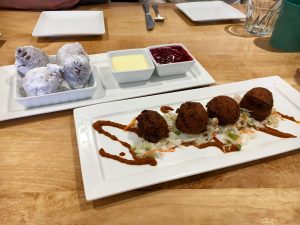 the BBQ added a really neat southern flare to the flavoring. Next was the sandwich, and it was certainly not a let down. First off, the bread, oh my goodness the home-made potato bread. It was everything I hoped it would be, fluffy, crunchy, buttery, and flavorful. In between were the two fried eggs, many strips of crunchy and thick bacon, and bringing it all home, the deliciously gooey and stringy blended cheese. There wasn't one part that was better than the rest, it all went together perfectly to create a mouth watering breakfast sandwich. I wasn't the only one who thoroughly enjoyed my breakfast though, my mom said her Autumn Grits breakfast was "probably the best breakfast I've ever had." If that doesn't entice you, I don't know what will.
This restaurant hit every category I look for. It had great service, cozy and inviting decor, a laid back environment, and of course, food that makes you keep coming back. Their idea was to make a neighborhood spot that was family friendly with the southern comfort feeling, and they definitely hit the nail on the head. The only thing left to do now, is to go back until I've tried it all.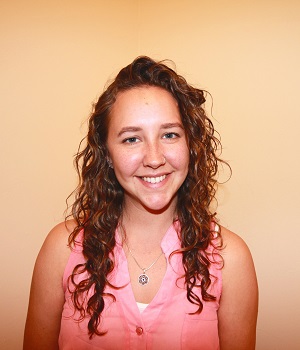 Alicia, a twenty-four year old East coast native, began her writing journey in elementary school with fictional short stories. Her love for writing about foreign people and places continued throughout the rest of her school days, but really began to take off once she graduated college. With a Philosophy degree under her belt, and an aching feeling of wanderlust, she packed up her life and headed off on a solo cross-country road trip. She drove to California where she spent her time blogging her experiences, taking pictures, and exploring the beautiful state by car. After five and a half months, she eventually ended in Colorado where she will continue her love for writing, travel, and grand adventures.