Black Sky Brewery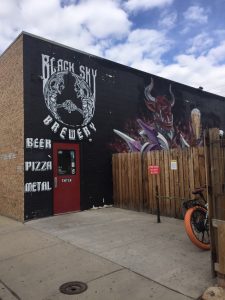 In case you haven't heard, metalheads are among the coolest people you can meet. Well crafted beers are easily enjoyed, and pizza is, at least environmentally, an even greater invention than the wheel. Looking for a one-stop-shop for all three? Look no further than Black Sky Brewery on 5th and Santa Fe.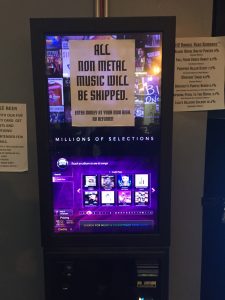 Regardless of your favorite genre of metal, Black Sky welcomes everyone. You can tell what this place is about from the mural above the front door featuring skeletal demons frozen in an otherworldly cheers. Another mural of a demon with a content look and an overflowing beer mug keeps patrons company out back. Just inside the entrance are some old school arcade games. One wall is completely covered with fliers for upcoming shows. The jukebox in the corner has a note taped to the screen reading "ALL NON METAL MUSIC WILL BE SKIPPED." A long bar runs the length of the main room, with half of it overlooking the brewing operation. The rest of the room is filled with tables. The walls are decorated with autographed guitars, posters and flags from various bands. There are paintings from local artists on display throughout, and they're for sale. One depicts Hunter S. Thompson shooting a revolver. Another is of Charlie Manson in a priest outfit. You know, metal stuff.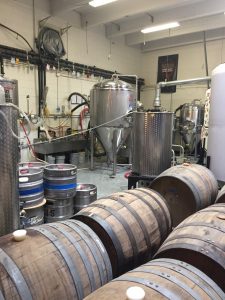 Since they brew their own beers in house, the selection rotates frequently. They crank out a wide variety of beers with names like Demonseed IPA, Toxic Zombie, and Black Metal Baltic. All fantastic. Black Sky also has really good food. Pizza is the perfect way to satisfy the appetite you work up headbanging. Like the beers, and everything else, the pizzas are metal themed. Some specials include the death growl, the brutal butcher, and the corpse paint.
For concerts a small stage is set up in the main room. Their shows usually feature local bands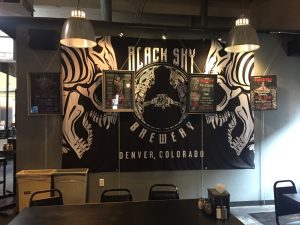 from an assortment of metal sub-genres. Whether you're into black metal, stoner metal, technical metal, deathcore, thrash metal, nintendocore (I just heard about that one), you can find it all here. Though floor space for shows is limited, crowd enthusiasm is not. You will definitely hear the music from two blocks away. The community involved with the Denver metal scene is really supportive of local bands and you're guaranteed to meet some interesting people. The next show is March 25th with Saintbreaker and Intent. Go see a show, sample some good beer, bring the whole family, try out some corpse paint.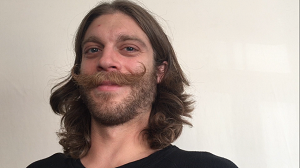 Jared is a local content contributor and aspiring author. He was fortunate enough to grow up in Golden, Colorado and graduated from MSU Denver. While an insatiable love of travel lures him all over the world, his roots remain firmly planted here. He enjoys writing short stories, poetry, children's books, societal observations, and everything else. A nature enthusiast and sunshine connoisseur, Jared is perfectly at home on any mountaintop or patio. He frequents art galleries and concerts, poetry readings and breweries, museums and bookstores. When he isn't making neighbors cringe at his musical attempts he can be found on a snowboard or sailboat, depending on the day. A perpetual adventurer and eternal patron of the road less traveled.