Bites with Blondie: Pigging Out at Bacon Social House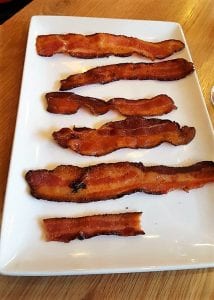 Bacon isn't just the cut of pig's back or underbelly. It's my absolute favorite food. Ever since I can remember, I have been obsessed with bacon. Maybe I just love salt-cured meats, or maybe it was the fact that my nanny growing up would leave a slice on the counter each morning for me, either way, I love bacon. I'll shout it from the rooftop. Hell, I even receive bacon inspired gifts as jokes, that I take quite seriously.  Call me weird or pork obsessed if you'd like, it won't bother me. I'm used to it.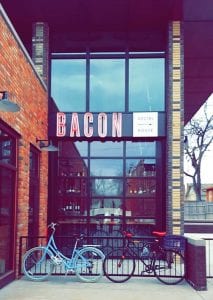 So, when a restaurant designed entirely around bacon opened in the Highlands, I knew I had to experience its greatness. My husband was reluctant to join me, but after proving to him the reasons why we must experience this true pork gem, he caved.
Here was my pro/con list that lead to a date at Bacon Social House.
PRO: Every type and flavor of bacon imaginable. Candied, garlic, habanero, apple wood, barbeque, paleo, traditional, baked, thick cut. You name it, they have it, and I want it.
PRO: Carefully crafted cocktails featuring bacon infused bourbon, whiskey and rum, bottomless mimosas, deliciously spicy bloody marys, tons of craft beer on tap and a killer wine list. They even have your favorite – anything with vodka.
PRO: Breakfast, lunch and dinner are available. The menus are killer and have items like bacon hash (country bacon, poached egg, sweet potato, roasted hatch chilies, caramelized onion and tomato aioli), Boozy French Toast (grand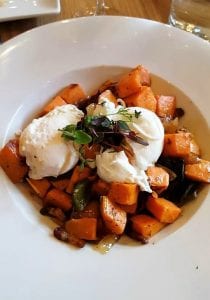 Marnier marinated challah bread, berries, bourbon bacon caramel topped with vanilla whip), and a loaded Southern Comfort Sandwich (southern fried chicken, Applewood bacon, garlic pickles, spicy slaw on a potato bun with tots or fries). Seriously, my mouth is watering and now I'm hungry.
PRO: Two words. Bacon Flight. You heard me.
PRO:  A culture of community – as all ingredients are locally sourced, house cured meats, and feature organic produce. That stuff tastes better, and you know it.
PRO: The seating area is huge and accommodates parties large or small, the outdoor patio is amazing, lots of televisions in the bar area, garage style windows to let the breeze in – all creating the most laid back, relaxed atmosphere this side of the Mississippi. We can people watch, or catch the Broncos play!
PRO: The nicest, genuine, coolest bacon-loving staff – who love their jobs, like to laugh, and know all things bacon. Don't believe me? Let's go and I'll prove it to you.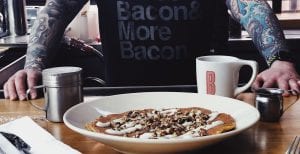 PRO: Reservations are highly recommended – and easy to do over the phone, online, or via Yelp. Which I made – You're welcome.
PRO: It's located in the beautiful neighborhood of Sunnyside, in the heart of the redeveloped Cobbler's Corner – with two new locations (Westminster and Littleton) coming soon!  One will be close to us next year, but that's still a few months away. Pleeeeeeeassseeeee?
PRO: It was voted Best of Denver (Brunch) 2018 by Westword, has the 2018 Certificate of Excellence from TripAdvisor, and has won three years back to back Diner's Choice Awards from Open Table. See, they must be doing something right!
PRO: Instagram worthy dishes – for us foodies who insist on taking as many pictures of our food as possible. Your camera takes better photos than mine, so you have to come. #sorrynotsorry
The only con…
CON: It's a popular joint, probably crowded and we'll have to park on the street. But let's be real – we can't hold their popularity against them. I'll meet you in the car.
See what I did there?
We went, we ate, and we left in a bacon coma with… leftovers.
My list worked – so feel free to use it, as now you have no excuse to not check out Bacon Social House. The slogan holds true – Peace, Love, Bacon…and more bacon!
Now go try it out for yourself!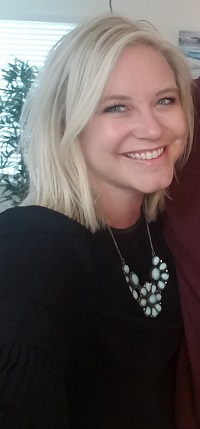 Katie traded in her flip flops for hiking boots at age three when her family moved from sunny Florida to even sunnier Colorado.  Katie's passion for food began at an early age when she would retrieve a strip of bacon from the counter each morning - a daily treat from her nanny.  That was only the beginning for her love of food.  After graduating with a degree in Communications (with an emphasis in Public Relations), she got her foodie start as Yelp Denver's first intern and has been scouting places to nosh all over Denver since.  For the past 9 years, Katie has maintained Yelp Elite status and made lasting relationships with local business owners, while continuing to be an avid food consumer and writer.  Her latest cravings and discoveries are frequently documented on her Yelp page.  Katie is known for her unique and witty writing style, obsession with avocados, and is considered the go-to girl when it comes to finding a place to dine.  When she's not finding a way to quit her day job to be the next Guy Fieri, she can be found slinging balls on the golf course, binging on true crime podcasts or indulging at a local brewery in the burbs.  Look for her work each 
Friday
 under Bites with Blondie.