Bites with Blondie: The Sweet Tooth In All of Us
Hello.
My name is Katie….
And I am a candy-a-holic.
(Hiiiiiii Katie)
It's true. I'm a sucker for it. Fully addicted.
Gummy bears, jelly beans, sour patch kids, york peppermint patties, fun dips, pixie sticks, sweet tarts, taffy, Swedish fish, Cat tails – even those yucky little hard candies every grandmother has sitting in a old dish –
You name it. I like it.
I know what you're thinking.
Katie – you need help. Seriously girl, get your self together.
The truth might be in the pudding – mmmm pudding – but the reality is much more straightforward; here is no real rehab for my sugar addiction. It's okay, really. I have taken the sweet steps to avoid the candy isle and my self-control has greatly improved.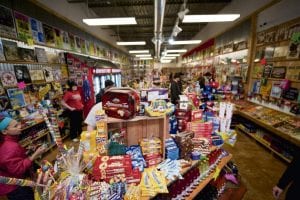 That is, until I enter Rocket Fizz. (I am my own judge, and a poor one at that).
This store is an addicts dream. A candy land filled to the brim with all things sugar that even Willy Wonka would envy. I will admit there is no likable wallpaper in this establishment (asked for a friend) but it is truly one-of-a-kind, amazing, and overwhelming experience. A total rush of sugar.
I'll admit I'm not myself when I'm (candy) hungry. In search of my next fix, I decided to pass through the seven levels of the Candy Cane forest, through the sea of swirly-twirly gum drops, and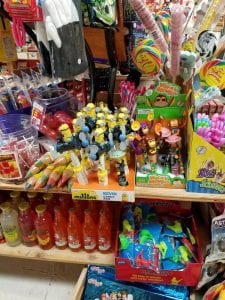 then ended up at this spot – caving into one of my various candy craving personalities.
The Sugar-Crazed Kid – A side that cannot and will not accept anything less than straight sugar into mouth; Pixie Stix, fun dips, and suckers, sweet tarts – everything in true sugar form. Take your pick and indulge.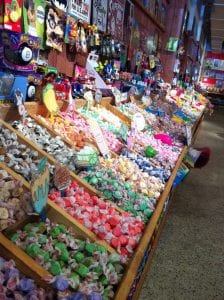 The Adult That Needs Chocolate After Dinner – The side that most commonly rears its' ugly head each night in search of a chocolate covered almond, ice cream sandwich, or a yummy little Virgin Mary shaped candy. Something unique? Chocolate covered crickets – because, why not.
The Old-Timey Candy Obsessed Lady – The side that likes said grandmother candy, lemon drops, mints, and the classics. Cause who doesn't like Cow Tails? Let's be real.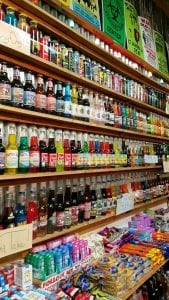 The Occasional Soda Drinker – The rare side that ventures out of the realm of juices and club soda to look for an alcohol mixer, and is surprised by the amazingly creative sodas now available. So long are the average flavors, bring on Melba's Fixings' of Peaches and Cream, Candy Cane Train, Australian's Style Hot Ginger Ale and Cock Cola. Let's not forget Fidel Castro's Havana Banana. With a wall of soda flavors to try, it's a must.
The Toy Candy Obsessed Nerd – A side that looooooooves to wear a candy necklace while popping Pez out of a politically charged Trump Pez dispenser, that is in search of the latest and greatest way to consume candy, but not via Candy Thong. Believe me, it's a thing. Find me near the Bacon flavored candy. (Duh).
I'll let you in on a little secret.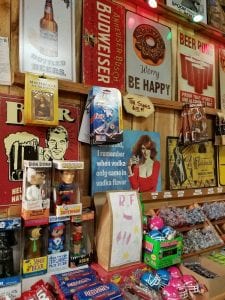 Rocket Fizz offers MORE than just candy!
Also in stock are various gag gifts – candy flavored underwear, a card board cut out of Harrison Ford, Van Gogh candy ears and plenty more can be found amongst the nostalgic tin signs hanging throughout this addictive joint. Hit any of the locations to experience the goodness. There is NO reason NOT to love this place!
Now the real question: What personality does your inner sugar monster crave?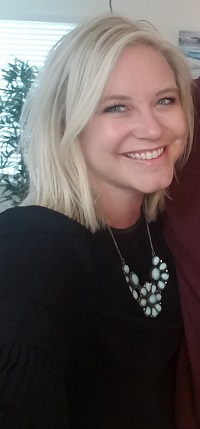 Katie traded in her flip flops for hiking boots at age three when her family moved from sunny Florida to even sunnier Colorado.  Katie's passion for food began at an early age when she would retrieve a strip of bacon from the counter each morning - a daily treat from her nanny.  That was only the beginning for her love of food.  After graduating with a degree in Communications (with an emphasis in Public Relations), she got her foodie start as Yelp Denver's first intern and has been scouting places to nosh all over Denver since.  For the past 9 years, Katie has maintained Yelp Elite status and made lasting relationships with local business owners, while continuing to be an avid food consumer and writer.  Her latest cravings and discoveries are frequently documented on her Yelp page.  Katie is known for her unique and witty writing style, obsession with avocados, and is considered the go-to girl when it comes to finding a place to dine.  When she's not finding a way to quit her day job to be the next Guy Fieri, she can be found slinging balls on the golf course, binging on true crime podcasts or indulging at a local brewery in the burbs.  Look for her work each 
Friday
 under Bites with Blondie.