Bicycle Film Festival
I've written about bikes several times before in this column. Cycling seems to be something that ignites a fire and unleashes a glorious abandon within many of us. Suspended between heaven and earth, wheeling along on our rubber tires, just a little lower than the avian swifts in their tar-black feathers, we are released from the boundaries and burdens of surly Earth and, for a moment, we are the divine. I mean, it's oftentimes a shit-ton of sweat and dirt and agony, but there's more moments of feeling your body and releasing your soul while cycling than almost any other experience I have had, up to and including Burning Man. You're simultaneously connected and removed, a perfect state of agony and bliss. Also, cycling gets you wide-awake to work and safely home from the local brewery; it empowers people around the globe with access to economic and educational opportunities; it can save the world by reducing carbon emissions and reconnecting people with their neighbors and non-motorized roadways; it's just plain fun.
So enough about my love affair with bikes. I'm here to talk about Bicycle Colorado's presentation of the Bicycle Film Festival. I'm a movie buff as well as a cycling fan, so I was interested in what the combination of the two would produce. Since the festival went virtual this year, like absolutely goddamn everything else in the entire world, I saw it online, from my Zoom chair, while wearing sweatpants and drinking box wine alone. Don't judge me. You canpurchase a ticket at one of three price points–all the price points give you access to the same video experience, which is a nice option during this COVID-based economic cataclysm. After purchase, you get an email with the link and password to access the festival. You can pause and resume, log off and log back in, up until December 6, so plenty of time to enjoy the festival on your own schedule.
The festival starts off with a talking-head close-up– a generic white guy's head, up against a generic white guy's off-white living room wall, hostage-video style. This feels about right for 2020 because do we not all feel like hostages in our own living rooms, backs up against the metaphorical AND literal wall? He dropped the memorable line, "One of the most positive things happening in the world right now–bicycles!" It would be hard to argue with that statement, even if I was inclined to. Thanks, Generic White Guy. After that, we get the films rolling.
Sort of. The festival starts off well, with a rousing montage of awesome cycling footage –road, off-road, commuting, adventuring, racing, having fun, doing work, all the two-wheeled things. Then, unfortunately, 2020 jerks us back into a Zoom room with a half-dozen folks talking about their cycling-promotion agencies. Feel free to fast-forward through this part. It's 90 minutes long and, while I admire the discussion and the diversity of the panel, we've all spent enough time in Zoom rooms this year.
So let's get back to the films. I do love seeing my fellow females all over the big screen–anything that passes the Bechdel Test is my new favorite–and the Bicycle Film Festival 2020 did not disappoint. The historical development of bicycles was life-changing for women and scandalizing to society. Bikes gave women access to independent transportation, the previous option being a horse and buggy. Women doing shocking things like traveling independently and *exercising in public* revolutionized their place in the world. The BFF hits this theme several times in ways that are both entertaining and downright inspiring. Sure, there were several male-based stories, too. A grieving father claims a connection to his dead-cyclist son (I cried a bit–blame the box wine); a child of Rwanda grows up to forge bonds across ethnic lines through cycling; young men in Lagos find pathways through BMX. But the theme of the night is the power that cycling gives to women.
The films show us… a young woman in Iran struggling to find a safe way to ride a bike home while avoiding abduction by the religious police. An aging female champion cyclist talking about how bikes were her escape into a world where her athleticism was honored, and how time has changed her goals. A married lesbian couple creating a vibrant community in Fruita through their commitment to each other, cycling, the town, and fostering the next generation. Female bike messengers defying expectations and claim their place in the fast, sexy, urban culture of big-city cycling. Immigrant women nurture other immigrant women (most of whom hail from deeply patriarchal cultures) by teaching them how to ride bikes in Amsterdam. All of these films moved me, some of them to near-tears and one of them to actual tears.
A certain queer aesthetic shines through in many of these films. It's always been subversive for women to own themselves. The freedom from and repudiation of gender roles that women controlling their own bodies and earning their own money exemplifies challenges the status quo. It's no wonder that cycling has so long been associated with sexual freedom and societal insubordination. While I do not identify as a queer person, I am frequently mistaken for one and I suspect that that's in part because my cycling lifestyle demands and bestows an aesthetic that rejects standards of how women should look and behave. "I'm going to ride this bike and thus arrive at my destination sweaty" rejects the social expectations laid upon the female body, and rejecting social norms is a deeply queer thing to do. Even in non-queer terms, bikes give women the power to subvert expectations and claim their own agency. In the film about the immigrant women in Amsterdam, the teacher gives the women authority that they may never have had before.  She says, "Tonight [after cycling class], your husband does not touch you." Imagine the earth-shattering idea that that might be to a person who has never, in her life, been told that she has the power to say yes or no. Bikes are always more than bikes.
The Bicycle Film Festival turned out to be pretty awesome and well worth another session in the Zoom chair. I laughed, cringed, cried. I wished I had a better bike; I wished everyone in the world could have a bike. Grab a ticketand enjoy the show.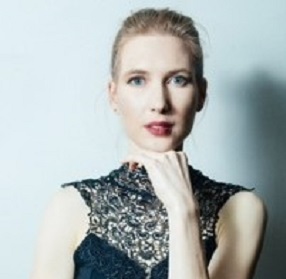 Jessie Hanson lives and works in Denver and couldn't be happier about it. Like the best-possible kind of Jekyl-and-Hyde scenario, she splits her life between science and storytelling. During the day, she performs clinical diagnostics and messes around with test tubes. At night, she performs behind the mic as a standup comedienne, in the air as a circus aerialist, and in rhinestones as burlesque dancer. She begrudges the hyper-inflated cost of a decent pair of false eyelashes. When she's not on stage, she sweating it out as an endurance athlete in triathlons and marathons across the West. She begrudges the hyper-inflated cost of a decent pair of running shoes. She's thrilled to be on board with OnDenver and writing about science, comedy, circus, athletics, and general fun on the Front Range!