Best Patios for Outdoor Dining
It's been hot hot hot! and I'm loving every second of it. Take advantage of the beautiful weather by enjoying some amazing grub surrounded by friends and family on our roundup of the best patio dining.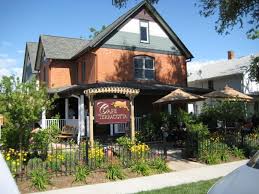 1. Cafe Terracotta
At Cafe Terracotta in Littleton you'll find the quintessential brunch experience, complete with homemade bread, out-of-this-world French toast, or their signature burgers, all of which can be accompanied with an alcoholic beverage of your choice. Most importantly, the views from the patio are to die for, as the restaurant is in a Victorian house and the patio faces the garden.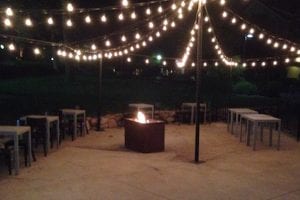 2. Brazen Neighborhood Eatery
A little on the pricier side, this Brazen Neighborhood Eatery in Denver is a great spot to come in and enjoy tapas and drinks. The patio outside has a fire pit for colder nights, and the service is always warm and inviting. If you're looking for a different experience, stop by for dessert and drinks and try their s'mores platter, which features a mini fire to roast your marshmallows and a variety of chocolate and crackers.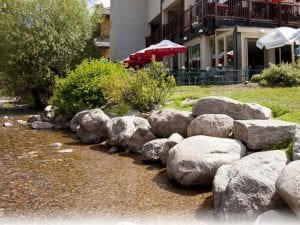 3. Up the Creek
If you're looking to indulge on date night, Up the Creek in Vail is your #1 spot for a romantic getaway with amazing views and food. This bar & grill features substantial dinner such as a tender rack of lamb, short ribs, or crab cakes. Everything at the restaurant is gourmet, organic, and farm-to-table. The patio is located right next to the creek, so you get to listen to the calming bubbling of the rushing waters while enjoying a fine meal.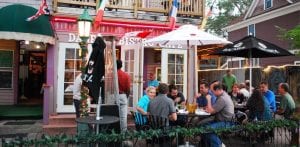 4. Dale Street Bistro
Stop by for breakfast, lunch, or dinner at Dale Street Bistro in Colorado Springs to get a beautiful view before heading over to the Fine Arts Center. As the perfect start to a relaxing day or evening, Dale Street Bistro caters vegetarian friendly food with local art that surrounds the wall. The patio is a real show-stopper and is great for people watching while enjoying the quaint atmosphere of the restaurant.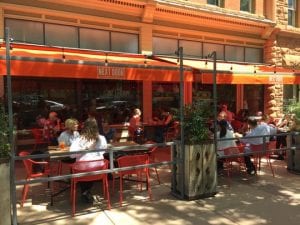 5. Next Door American Eatery
This new restaurant opened in Fort Collins just a month ago, but it has already been pulling in large crowds since its opening due to its affordable food, sustainable practices, community partnerships, and family atmosphere. The restaurant encourages the community to come together to enjoy their food and kick back and relax with one another at the end of a long day.