Beer With a Cause
Denver has never been shy about being a lush–but with great power comes great responsibility, as they say, and I am proud that the beer community in Denver often uses its brimming love for the craft to do as much good in as possible. There is a special interest beer on several taproom menus that gears profits toward a special cause, as well as benefit events, concerts, and fundraisers. This week, I want to write and share my experience at the 2nd Annual Craft Beer and Wine Festival in Broomfield, benefiting the Marc Jr Foundation.
The Marc Jr Foundation was founded in 2008, and aims to financially and emotionally assist children and their families who are diagnosed with DIPG: Diffuse Intrinsic Pontine Glioma, an aggressive type of brain cancer. This foundation provides the most comprehensible resources available, and functions out of the Colorado Kids Cancer Association. They are doing great things, and it is an honor to be able to help benefit the foundations recipients, and in such a cool way.
Lynette Apodaca, the executive director of the foundation, created it in the wake of her own son's diagnosis in 2007, following his passing in 2008. Despite unthinkable tragedy, the Apodaca family has turned tragedy into triumph, helping countless other families over the past decade emotionally and financially navigate the hardships that come along with cancer diagnosis. A vibrant and generous woman, Lynette reached out to me, and invited me to this amazing event that everyone was very excited to participate in. Held in the Orchard Town Center, it was easily accessible, small enough to enjoy ourselves in an intimate environment, but hosted plenty of beer and wine samples and other vendors (and free food for VIP wristband holders!). I decided to take advantage of a night out, and had another mom friend join me, our two littles in tow. Even in spite of the persistent rain that almost never happens in Colorado, it was still a wonderful evening at a well-organized event full of generous people and businesses.
Living in the city, I had never quite trekked as far into the suburbs as Broomfield, and was not sure what to expect. I had no idea there were even wineries this side of the Rockies in Colorado! We spent out few hours hopping from the cover of one tent to another, getting to know each one and debating who we would vote for in the People's Choice contest in each libation's individual category. The torrential rain and near freezing temperatures drive a few of the wineries out a little early, disallowing us to cast our votes. But in true form, our fellow brew-masters took it all in, generously pouring us beer while we waited out the weather. In the end, it was Four Noses Brewing that impressed me the most, and I plan to join my new friend Kyle, who was representing 4 Noses, for a more in-depth tasting session, tucked neatly away in the suburbs.
I implore everyone to mark their calendars for next September, as the festival seems to grow each year. With so many negative things in the world, it's our responsibility to do what we can, while we are doing what we love (drinking good beer!) and helping to benefit a good cause. For more information on the Marc Jr Foundation, visit the website to donate, and contact Lynette and ask what else you can do to contribute to this beautiful cause.
Next week, I will be at GABF all weekend! While this blog will be on a one-week long hiatus, don't fret: I'll be back in two weeks with an extensive in-depth look at how well our favorite local, small, craft breweries fare at the worldwide competition held nowhere else but the best beer city in the world.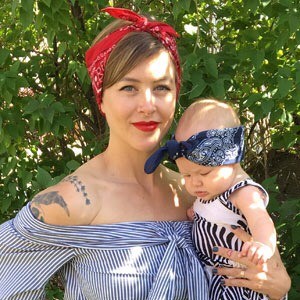 Erica Hoffmeister earned an MFA degree in creative writing and an MA in English from Chapman University of Orange. She has creative work published in the literary journals Shark Reef, Rat's Ass Review, Split Lip Magazine, and others. She has been teaching for over a decade (claiming 8th grade as her favorite grade level because she's an actual crazy person) and currently teaches composition and literature courses for Morgan Community College out of Fort Morgan. Always considering herself a bit of a beer nerd, she met her husband at Our Mutual Friend brewery while on vacation and fell in love with him, Denver, and its beer scene in one fatal swoop. While born and raised in Southern California, don't worry—she's earned her spurs as a transplant by creating her very own Colorado native. As a new mom, she is currently renegotiating her role as a world-traveling, bar-hopping, beer-loving free spirit by taking advantage of Denver's beer culture, where you can find as many babies in breweries on any given afternoon as beers on tap.