Beat the Heat on a Paddle Boarding!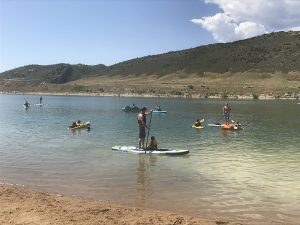 I love outdoor water activities. I am big into canoeing (on a river or a lake), Kayaking, boating, rafting, tubing, swimming, and water skiing. You name it, I love it. Because there are so many water activities, I haven't thought about trying something new until recently. Last weekend, or the first time ever, I went paddle boarding. I had a blast and can't wait to do it again!
I went to Big Soda Lake Reservoir just off C470 in Morrison. But you can paddle board anywhere there is water. Some popular places near Denver include: Chatfield Reservoir, Cherry Creek Reservoir, Aurora Reservoir, and Denver Lakes (Sloan's Lake, Smith Lake in Washington Park, Rocky Mountain Lake, Berkeley Lake, Ferril Lake at City Park). You can bring your own board or rent a board for about $20/ hour.
I recommend learning on a calm lake. Big Soda Lake Reservoir was a great place to learn because ii does not allow boats. Without boats, waves are not a big issue. And without waves, you can focus on standing up, positioning your feet, and moving in general. Once you are comfortable, take your paddle board to a river or even the ocean to ride some big waves.
Now that you have selected a lake and have a board, the real fun starts. Standing up is a little tricky, so if you are not comfortable standing just kneel. The best part about this sport is it can be as active or leisurely as you make it. You can stand, kneel, go fast, go slow, suntan, or even do yoga! Yes, yoga. I saw a few people on the lake doing it. It doesn't matter how active you choose to be (other than sun tanning), you should still expect to get a good workout with every stroke.
This popular activity allows you to get some peace and quiet and picturesque views all while being on the water. It is a fun activity to do alone, with family, or with friends. So, if you are still looking for something fun to do this weekend, go paddle boarding! And remember, it is okay it you fall a couple of times. Getting wet on a hot day isn't so bad!
Have fun, wear sunscreen, drink plenty of water, get wet, and make sure to smile!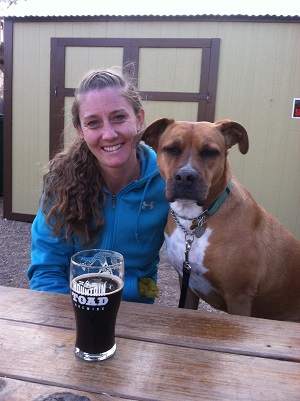 Christie is an outdoor enthusiast from Golden, Co that LOVES doing everything outside. She has an MBA with an emphasis in Sustainability from Brandeis University and a passion for helping others, which she turned into a consulting career. Whether you are looking for social media, marketing, or business strategy, Christie will help grow your business. In her spare time, she enjoys the outdoors and sharing her stories with others through blogs. Christie loves Colorado and hopes her stories help others see Colorado in a way they have never experienced before.