Barkley at the Voodoo
It may have escaped the attention of the average layperson, but there's been a gaping vacuum of power in the Denver all-male-longform-improv-team scene in the last two years. I'm happy to report that this game of thrones has been settled. The new reigning monarch is Barkley.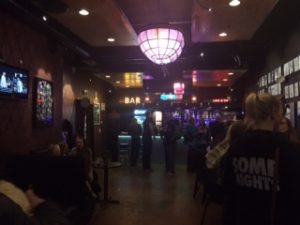 Barkley is six guys who make empty space into hilarity. For those who might not be familiar, improv is a comedy form where the performers solicit a suggestion from the audience and then create a comedic scene in real time, using that suggestion for inspiration and completely improvising all lines of dialogue and actions on stage. The skill lies in the players "saying yes," accepting and adding to each other's choices, and thus conjuring up a coherent world that is both utterly ridiculous and completely believable. When it works, it's hilarious. When it doesn't, it's just a bunch of weirdos stumbling around the footlights. With Barkley, it almost always works.
The real magic of improv is that saying "yes" to your partner on stage. It's harder than you might think. Barkley hosts an improv jam eve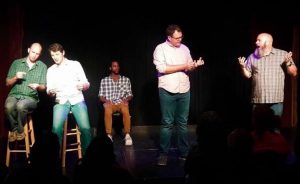 ry Friday night so we lucky Denverites can join them on stage and be included in their magic. (A jam is a playdate for anyone who wants to join in on the fun. You just put your name in the bucket and jump up on stage to join Barkley when it's called.) After a few rounds of the jam, Barkley takes the stage alone to show the rest of us how it's done.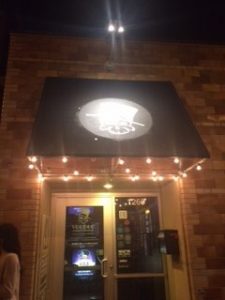 The fun of Barkley is in their energy and their obvious joy in playing together. I've spent years watching and playing improv and I still marvel at the effortless grace of expert players. These are guys who clearly enjoy both supporting each other's zaniest choices and setting each other up for glorious embarrassment. Some of the players excel at fluid and fluent dialogue that pours into every scene. Some of them shine in their physical commitment to the emotions and actions prompted by their scene partners. Together, they cast a spell that gobbles up an hour of your life and you're happy to be thusly seduced.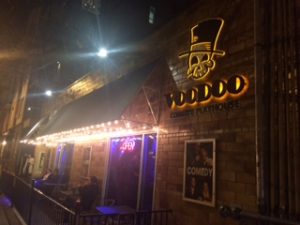 The place where all this happens is the Voodoo Comedy Playhouse, on 22nd and Larimer in Lodo. It's one of the few places in town where you can see improv performed adjacent to a full bar. Knowing many improvisers and being one myself, I can testify that this is a critical component to maintaining an improv theater's workforce. In addition to a full spectrum of booze, they offer a full spectrum of improv classes and workshops, from beginner to expert, and have arguably the best lineup of improv shows in town. (Barkley aside, two particular favorites of mine is Makeshift Shakespeare, an improvised Shakespeare play, and Hit & Run, an improvised musical.)  For those who may want to dip their toe in the waters before committing to a class series, they also offer drop-in classes on Tuesdays and Thursdays.
You, too, can be delightfully beguiled by joining in on the Improv Jam every Friday night at 7. It's free and open to everyone. You don't have to have any improv or performance experience at all and they'll be thrilled to have you jump up on stage. If that's not enough Barkley for you, you can check out their full-length show on the 3rd Fridays of the month at 10pm.
Winter isn't coming; winter is here. And if you spend even a few hours of this winter staying warm in the Voodoo bar and staying laughing with Barkley, it's a winter well spent.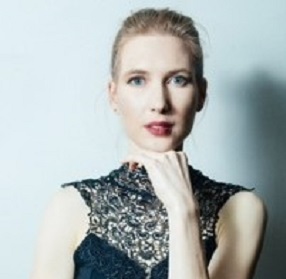 Jessie Hanson lives and works in Denver and couldn't be happier about it. Like the best-possible kind of Jekyl-and-Hyde scenario, she splits her life between science and storytelling. During the day, she performs clinical diagnostics and messes around with test tubes. At night, she performs behind the mic as a standup comedienne, in the air as a circus aerialist, and in rhinestones as burlesque dancer. She begrudges the hyper-inflated cost of a decent pair of false eyelashes. When she's not on stage, she sweating it out as an endurance athlete in triathlons and marathons across the West. She begrudges the hyper-inflated cost of a decent pair of running shoes. She's thrilled to be on board with OnDenver and writing about science, comedy, circus, athletics, and general fun on the Front Range!