Bailey Elora at the Marquis
Valentine's Day is quickly approaching, but before it gets here, take a little time to appreciate the real love of your life: live music. Friday, February 8th, the Marquis welcomes Bailey Elora, celebrating the release of her latest EP, All The Feels. She'll be joined by Los Mocochetes, Brass and Gold Society, and Ill Qhemistry.
Bailey Elora is a singer/songwriter based in Denver. She's had a lifelong passion for music and began performing in the studio when she was only 14 years old. She released her first single, Must've Been The Roses, at age 18. She's played top tier venues including Levitt Pavilion, the Pepsi Center, UMS, and Civic Center Park.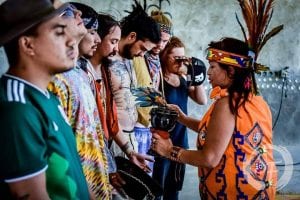 Elora also produces her own monthly show at The Black Buzzard at Oscar Blues, where she gives back to a local nonprofit, Youth On Record. She's shared stages with bands like Silver and Gold, Lyle Divinsky from The Motet, Michelle Rocqet of The Milk Blossoms, and Joshua Trinidad among many others. She'll be accompanied by her band, featuring Freddy Zamora on guitar & vocals, Geoff Orwiler on bass, and Isaac Zamora on percussion and vocals.
Los Mocochetes are a Xican@ Funk band from our very own Denver. They play protest music you can dance to. The six members combine thoughtfully brazen socially/politically charged lyrics, robust melodies and an enthralling stage presence to bring audiences unforgettable performances.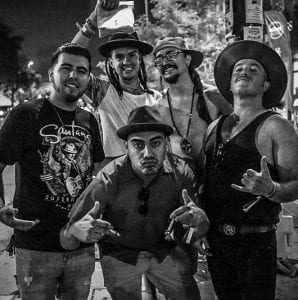 Los Mocochetes were named Ultra 5280's Band of the Year in 2018. They were also awarded Westword Music's Best Jam Band and Best Funk Band that same year. Their latest single, Que Viva Revolucion!, was filmed at a community gathering last March commemorating a protest that took place in 1969. The historic walkout involved students at Denver West High School fed up with educational segregation and discrimination against students of Mexican descent. The rally sparked a national conversation when police responded with violence. Que Viva Revolucion is a continuation of that conversation and a tribute to the activists involved. You can check it out here(https://www.youtube.com/watch?v=XjUjLkqQ3aA).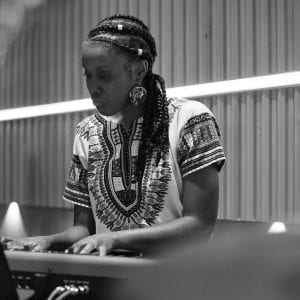 Brass and Gold Society are a local music collective. They have a collaborative approach among their members, similar to Snarky Puppy, and Everyone Orchestra. Friday's show includes all the originals; MC IllSe7en, Randy Runyan, Michael Windham, Ryan Sargent, Tenia Nelson, Alex Tripp, Aaron Summerfield, and Ben Fausch. This core group is routinely joined by A-list musicians from all over the Denver music scene. Guest appearances include Luke & Niki Treddenick from the Dollhouse Thieves, Tung Pham from Gora Gora Orkestar, Lee Knight from Black Wolf, MC Molina Speaks, and the legendary local jazz vocalist, Danette Hollowell. They play a mix of hip hop, jazz, soul, classical, R&B, and Banda. This supergroup is the epitome of eclectic, and every show is wildly unique.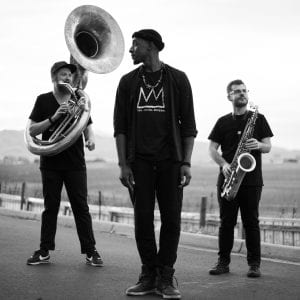 Ill Qhemistry is a musical duet with Violator Allstar Dj Big Spade and Saxophonist Harold Rapp III. DJ Big Spade is one of the hottest DJ's on the West Coast. He's recorded with some of the biggest names in hip hop, including Dj Jam, Dj Green Lantern, Biz Markie. DJ Drama, and Dj Jazzy Jeff. He's shared stages with Wu-Tang, Naughty By Nature, Outkast, Gang Starr, Busta Rhymes, and T.I. among many, many others. Rapp is a lifelong musician with a style that bridges many genres. He draws on classical, traditional, and contemporary jazz methods to deliver smooth, soulful performances.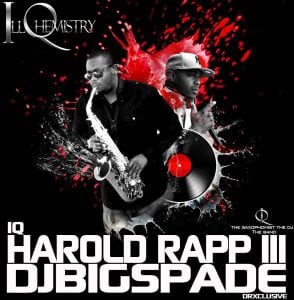 Next Saturday, February 8th, these talented locals will be shaking the rafters at everyone's favorite bar/venue/pizza joint. The Marquis is located at 2009 Larimer Street in Denver. Get your tickets at https://www.themarquistheater.com/.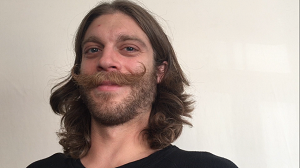 Jared is a local content contributor and aspiring author. He was fortunate enough to grow up in Golden, Colorado and graduated from MSU Denver. While an insatiable love of travel lures him all over the world, his roots remain firmly planted here. He enjoys writing short stories, poetry, children's books, societal observations, and everything else. A nature enthusiast and sunshine connoisseur, Jared is perfectly at home on any mountaintop or patio. He frequents art galleries and concerts, poetry readings and breweries, museums and bookstores. When he isn't making neighbors cringe at his musical attempts he can be found on a snowboard or sailboat, depending on the day. A perpetual adventurer and eternal patron of the road less traveled.