April Shows at the Marquis
We have more than our fair share of concert venues, but only one with pizza that's worth mentioning. Of course, I'm referring to the Marquis Theater off Larimer. Known for energetic shows and its high-quality sound system, this is a regular stop for local and touring bands of all genres. The Marquis books some pretty big names for a venue its size. Previous headliners include The Sword, The Slackers, Portugal the Man, People Under the Stairs, The Mad Caddies, Norma Jean, Swollen Members, and so many more. I saw the Dirty Heads there with Rome (who does vocals for Sublime now, RIP Bradley) for ten bucks once. Some particularly awesome bands are headlining in the next few weeks.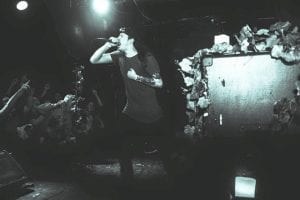 The Plot in You is coming April 24, bringing the emo left inside of you some much needed love. Vocalist Landon Tewers has perfected that elusive yell scream that so many others never quite get.  Their latest album, Dispose, mixes their signature heavy drum and bass lines with more melodic vocals than fans might be used to. They're stopping in Denver on a robust U.S./European Tour with Like Moths to Flames, Dayseeker, Limbs, and Fox Lake.
On April 27th, the legendary 80's psychobilly band Nekromantix is headlining. If you're not up to speed on influential rockabilly bands, this show is a great introduction. They've been tearing up punk shows for decades with their over the top stage antics. Their music combines B-rate horror, dark humor, and punk rock, resulting in cult favorites like "Haunted Cathouse" and "Life Is A Grave and I Dig It". Front man Kim Nekroman is nuts. He does lead vocals and plays a custom stand-up bass shaped like a coffin. Catch them with Rezurex and The Brainiax.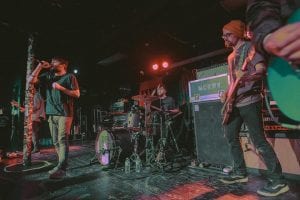 Hot Mulligan is a pop-punk band from Michigan. Drawing inspiration from groups like Taking Back Sunday, The Wonder Years, and Motion City Soundtrack, they've released four EPs and one full length album since 2014. Pilot, which dropped last year, is a good representation of the band's overall progression. They've grown into their own with this album. It includes some softer stuff, but also upbeat party songs, a Michelle Branch cover, and an acoustic re-release of their hit single, "Deluxe Capacitor." They're touring all across the country this summer before heading to Australia in August. You can see them on April 30th with Belmont, Kayak Jones, Fredo Disco, and Future Teens.
The Marquis is a great place to see a wide variety of music, and it's an all ages venue. What it lacks in size it makes up for in sound. The shows have an intimate feel that the bands love just as much as the audience. Plus they serve fresh pizza (vegan pizza too) which is worth its weight in gold between bands. The Marquis is located at 2009 Larimer Street in Denver. For more info and their full calendar check out themarquistheater.com.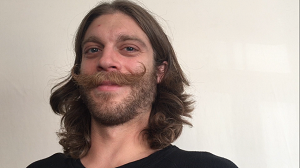 Jared is a local content contributor and aspiring author. He was fortunate enough to grow up in Golden, Colorado and graduated from MSU Denver. While an insatiable love of travel lures him all over the world, his roots remain firmly planted here. He enjoys writing short stories, poetry, children's books, societal observations, and everything else. A nature enthusiast and sunshine connoisseur, Jared is perfectly at home on any mountaintop or patio. He frequents art galleries and concerts, poetry readings and breweries, museums and bookstores. When he isn't making neighbors cringe at his musical attempts he can be found on a snowboard or sailboat, depending on the day. A perpetual adventurer and eternal patron of the road less traveled.