An Ode to Sports
I sat down at my computer and thought about what to write.  It had been a few weeks since my last article and I was happy to get back to work after my editor approved a couple weeks off.  Last weekend I flew to Minnesota to watch my sixteen-year-old daughter swim at a major meet, as well as visiting a longtime friend from my childhood.
The week before I attended my mother's memorial.  She had passed away after a short battle with cancer at the age of 74.
Staring at the screen, I thought about the Rockies big weekend series against the Dodgers, and the Broncos opening act on Saturday versus the Vikings, but neither took precedence.  Instead, I thought about sports, in general, and relished on how sport distracts so perfectly from the rigors of daily life.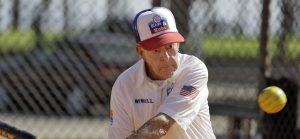 At the memorial there were well over a hundred people, including half-a-dozen attendees that showed up in their softball uniforms as a tribute to my step-father's 70-year-old plus, co-ed softball team.  Like good teams do, supporting a teammate that is hurting.  The next day, following the memorial, a few of us headed back to my mother's house and helped pack up decades of memories.  My step-father, a baseball enthusiast, and one-time major league beat writer for the Associated Press, gifted me a baseball bat signed by the great Willie Mays.
The bat was symbolic of the purging of a house that was no longer occupied, an older man passing down precious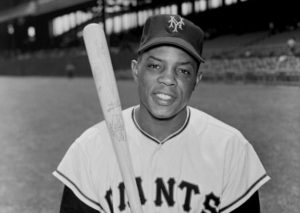 memories, and a generation passing down only what's important. A furniture piece, some jewelry, a painting, or possibly a perfectly varnished, irreplaceable Louisville Slugger.  By the end of the week the house was empty.
I arrived in Minneapolis the following week passing through memories from childhood.  Street signs, neighborhoods, and radio stations from my youth.  Passing by a small park, I imagined a youth soccer or baseball game I most likely played in as a kid, and my mother's uncanny ability to show up just long enough to show her face, and prove she cared.  A wave from the car on a blistery winter day, or a kiss blown from across the gym, a single mom with little time and zero interest in sports, trying her best to support her son.
It had been awhile since I had seen my childhood friend, but sport connected us quickly.  I arrived as he was throwing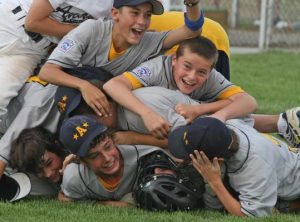 batting practice to his teenage sons.  A baseball family in the summer, the weekend was filled with double-headers, two-run homers, and even a hog-pile on the mound after a defining win.  I slept in one of the kid's rooms, filled with trophies, autographed baseballs, and dreams.  Dad looked exhausted as he tried to figure out the schedule for games to come, while Mom switched shifts at the hospital to catch the last few innings of her son's game.  Soon winter would come, the lake would freeze over and turned into an ice rink, and things would slow down a little.  But not quite yet.
An hour and a half away, my parenting job was made easy by the success of my daughter's meet.  She would win two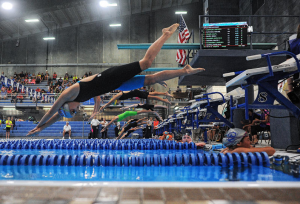 individual events and swim well throughout.  As the cameras focused on the podium, it became clear to me that I was mistaken.  Sports are not a distraction from the rigors of life.  Sports are life. 
The importance of a swim meet, baseball game, or box score may differ from one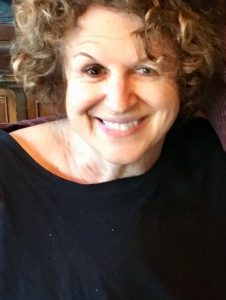 person to another, but it's sewn within the fabric of who we are.  Prioritized as we see fit.
I'll be at the Dodger game on Saturday, drinking beers with my cousin, and a few buddies.  My daughter has the Broncos covered as she attends the game with a friend, using Grandpa's seats.  I may miss a run or two, and my daughter may leave by halftime, but we won't be distracted.  We'll be living.
Images via archiveboston.com, biography.com, postbulletin.com, saintpetersblog.com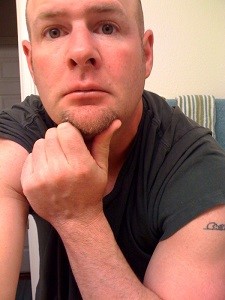 Alan Tapley is an educator, author, and blogger who has lived just outside of Boulder for the last twenty years.  His published work includes two novels, two children's books, a series of cartoons in the Minneapolis Star-Tribune, and multiple sports related articles. His love for family and the state of Colorado is only matched by one thing, his passion for sports.  The first baseball game he ever attended was at Wrigley Field, before there were lights.  At the final Bronco game at the old Mile High, he allegedly cut out a piece of his seat in the South stands.  But regardless of being here for the Avalanche's last Stanley Cup, the Rockies only World Series appearance, and all the Broncos' Super Bowl Victories, his wife never fails to remind him that he wasn't at the University of Colorado in 1990, like she was.  The year the Buffs football team won the National Championship.