An Interview: Colorado Book Award Nominee Madelyn Garner
The Colorado Book Awards celebrate the immense literary successes of local authors.
Madelyn is a Colorado Book Award nominee in the Poetry category. She will read alongside fellow nominees on April 27th at Denver's BookBar beginning at 7PM.  Celebrate National Poetry month while showing support for local writers!
Lucky for us, Madelyn Garner was emphatic to share a little bit about Hum of Our Blood, her debut poetry collection that was over twenty years in the making.
About Madelyn Garner:
Master teacher, editor, and poet, Madelyn Garner has degrees from the University of Denver and Mills College. As a creative writing instructor, middle school principal, and mentor, she is widely recognized for designing and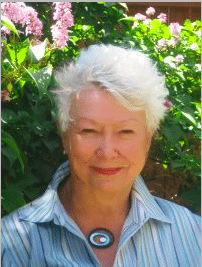 implementing a variety of innovative educational programs at all levels, elementary through university. Madelyn is the co-editor of the anthology, Collecting Life: Poets on Objects Known and Imagined, Colorado Book Awards Finalist, 2011. Recent work has appeared in The Best American Poetry (2015), The Florida Review, The Pinch, Slant, Roanoke Review, Nimrod International Journal, The Journal of Feminist Studies in Religion, and Water-Stone Review, among others.
Her debut book, Hum of Our Blood, was originally published by A Taos Press; the work was selected for publication by Tupelo Press in the July Open Reading period. It is a finalist for the Colorado Book Award and the Julie Suk Award for best book published in 2017 by an independent press.                            — Tupelo Press / A Taos Press
Book Summary:
Confessional. Indictment. Devotional. Revelation.
Hum of Our Blood peels back time to the dawning days of the AIDS pandemic when the world seemed to be standing at the edge of a foreboding precipice. In an exploration that is both personal and universal, Garner's poems expose the best and worst of humanity at times of peril. With language that cuts straight to the nature of grief as the author watches her beloved son, artist Bradley Braverman, dying, Hum of Our Blood also stands as a love song to those, then or now, who would embrace one another despite what smolders in the blood: those who come to understand that death has its own rhythm, and grief, in its darkness, instinctively moves toward light.                                                                                     — Tupelo Press / A Taos Press
Hum of Our Blood  grapples with the genesis of the AIDS epidemic.
How does this narrative inform the contemporary perspective and/or contemporary political climate?
With HIV/AIDS, the way the world views the pandemic has changed to read like a black and white documentary. Part educational. Part theatrical.  How then do we see the history of the pandemic against the evolving social and political events of today? Especially at a time when, to this generation, pre-exposure prophylaxis PrEP is a reality, HIV is a preventable infection, and the world exists in which treatments promise longevity.  My answer is the latest global figures that show in 2016 approximately 36 million people were living with HIV, 1.8 million had become newly infected, and one million died that year from AIDS-related diseases. Even in America, antiretroviral medicine and treatment remain expensive, and far too many individuals lack necessary insurance coverage.  Side effects from drugs are a persistent problem. I hope Hum of Our Blood reminds us of the ways we mistreated and neglected patients and caretakers alike during that time period because of fear and the lack of sound medical information. Ultimately, the history of the AIDS pandemic stands as a testimonial to the need for on-going rational health care policies and planning.
How did Hum of our Blood come together?
In Hum of Our Blood, I found myself involved in multiple decisions about the structure and poems to be included.  One decision was to not divide the book into sections, which many poets do today. It seemed to me that the book should represent the lack of respite caused by any long and debilitating illness both for the one stricken and for caregivers as well.  Each poem was weighed to see if it added to the narrative arc and reinforced theme.   New poems were written when I saw parallels to potential pandemics.  For example, a poem about being asked to wear a surgical mask and blue latex gloves was triggered by watching the safeguards undertaken by caregivers during the latest Ebola outbreak.  I wanted to speak to the larger societal issues of what happens during a pandemic with individual families.
Sometimes writing about trauma can be cathartic; other times the process can well up a lot repressed feelings.  How did the writing process affect your emotional reckoning?
My feelings, derived from writing over a number of years about my son and the time period (1982-1995), are complex.  They vary day to day and exist simultaneously, coming and leaving unpredictably.  I still cry during poetry readings, or try not to, and other times, it seems I am reading as no more than a stranger examining a life lived. The poems were written over an extended period of time, almost two decades, and I now have come to believe that with grief there are no defined stages, no one way to heal. The trauma of losing my son remains a part of me despite time or the number of poems I have written. 
Can you give some insight into the title Hum of Our Blood.  How does this metaphor inform the narrative?
The title was taken from the poem, "Drum".  The narrator asks the question, "Why didn't the angel come at that moment/ of sun on our skin, the hum of our blood, / when his heart was beating its four-chambered drum?"   The specific reference is to the Angel of Death and my wish, looking back years later, that if he were to die it would be in a blissful moment than how terribly he suffered during those last days.  At another level, the word "hum" refers to the way blood circulates throughout our bodies in an almost machine-like way, humming with energy, against the irony of one of several ways HIV can be transmitted is through blood.
Madelyn's Hum of Our Blood will be available for purchase at the Colorado Book Award Reading at BookBar on April 27th at 7PM. Here's just a glimpse inside its pages:
In This Photograph by Madelyn Garner
His eyes veiled, body a candle
devoured by its own fire
to wick and smolder
is not how I remember
the archived hands, paint-splattered,
moving across a canvas. Where
is the sunlight as if some
angel restored the livid places to white?
Where hair once the color of graphite,
and curly?
There is nothing that shows
him whole—
this figure made of light
as in lumen—
and I am betrayed
not by cone and rod,
but everything I thought I knew
about dying could be
otherwise.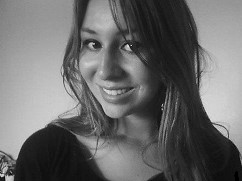 Bianca Glinskas hails from sunny Southern California, where she studied English and Creative Writing at California State University of Long Beach.  Bianca's work has appeared in literary magazines including 
Knock Your Socks Off,
Ordinary Madness,
 and 
Glass Mountain Magazine.
Bianca's column arose as a natural attempt to answer the call of Denver's lively, pulsating literary scene. When she isn't reading or writing, Bianca enjoys doing yoga, playing viola, exploring the outdoors, drinking at breweries, and holing up in coffee shops for hours on end. For any inquiries regarding Bianca's coverage of Denver's literary scene, please do not hesitate to contact her directly at 
bglinskas@gmail.com
.