An Interview: Colorado Book Award Nominee David Hicks
The Colorado Book Awards celebrate the immense literary successes of local authors.
David Hicks is a Colorado Book Award – Fiction nominee. He will read alongside fellow nominees in various categories on April 27th at Denver's BookBar beginning at 7PM. Show your support for these nominated Colorado greats.
Lucky for us, David Hicks was happily willing to let me pick his brain a bit.
About David Hicks:
David is the author of the debut novel, White Plains, which was published by Conundrum Press in 2017. Excerpts from the novel have been published as short stories in Glimmer Train, Colorado Review, Specs, Saranac Review, and South Dakota Review, along with other stellar journals.
David lives in Colorado with his wife, the poet Cynthia Kolanowski, with children Stephen and Caitlin nearby, and is a professor at Regis University, where he also co-directs the Mile-High MFA program. He is represented by Victoria Skurnick of the Levine Greenberg Rostan Literary Agency.
About White Plains:
Flynn Hawkins is a graduate assistant at a prestigious university, on his way to greatness and wisdom. But in the aftermath of 9/11, Flynn leaves his unhappy marriage and beloved children, resigns his teaching position and heads west, only to get lost in his guilt in the mountains of Colorado. When he ends up stuck overnight in a snow drift during a blizzard on the Continental Divide, he realizes he needs to remake himself into the kind of man his children need him to be.                                             —david-hicks.com
What are the origins of White Plains? What inspired its characters, plot, and setting?
White Plains didn't begin as White Plains. It began as a single story ("Diamond Dash") published the Colorado Review way back in 2003, and then another story ("Spring Creek Pass") published in Glimmer Train, and so on. When I had enough short stories published to make a collection, I figured I would try to put one together. But when I gathered all the autobiographical stories and put them together chronologically (according to the main character's age), I realized that the stories collectively formed a single narrative arc. But there were obvious gaps in that single narrative, so I set about filling in those gaps with stories from the other characters' points of view. After I did that (and revised the book another twenty times or so), it felt ready to send out to the world as a novel.
How does Colorado's geography relate to Flynn's internal strife?
The Rocky Mountain landscape has everything to do with Flynn's internal strife, as well as his healing. What the mountains do is reflect back at us–or inspire the expression of–our own elemental selves. Flynn's life in New York is nothing but pain and strife, and when he moves to Colorado he experiences a deeper pain, a deeper kind of strife, but also the prospect of the kind of salvation the stark and beautiful landscape offers. In New York, there are so many distractions, so many ways to avoid the emptiness of your soul. In the mountains, you are compelled to face it, every day, and thus you have the opportunity, every day, for reform, rebirth, revival. And that's what Flynn goes through.
White Plains' is a series of short stories which flash backwards and forwards in time. As both a writer and creative writing professor, how does this format contribute to the overall narrative?
It keeps us on our toes, I would say. The main narrative always moves forward, but the chapters from the other characters' points of view will at times look back and "fill in the gaps" that the main narrative leaves. Flynn's life is in great flux–he is actually in formation under our eyes–so the structure should contribute to that unsettling theme. It's jarring to the reader, but I wanted it that way, because it's an upsetting narrative–not smooth and easy at all. 
What reader reaction has most surprised you?
On my book tour I was surprised at how many people commented on how much they liked the two chapters from the children's point of view, and they always seemed surprised when I told them that my two children wrote them. In the latter stages of the book's formation I asked both my son and daughter to write a story about something that happened while we were separated from each other–when I lived far away and their mother was preventing me from seeing them–and they wrote the chapters that appear late in the book. They're very different from each other, but both of them break my heart, and I've never been able to read them out loud.
David's White Plains will be available for purchase at the Colorado Book Award Reading at BookBar on April 27th at 7PM.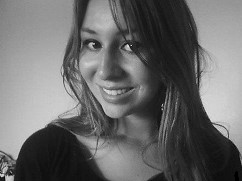 Bianca Glinskas hails from sunny Southern California, where she studied English and Creative Writing at California State University of Long Beach.  Bianca's work has appeared in literary magazines including 
Knock Your Socks Off,
Ordinary Madness,
 and 
Glass Mountain Magazine.
Bianca's column arose as a natural attempt to answer the call of Denver's lively, pulsating literary scene. When she isn't reading or writing, Bianca enjoys doing yoga, playing viola, exploring the outdoors, drinking at breweries, and holing up in coffee shops for hours on end. For any inquiries regarding Bianca's coverage of Denver's literary scene, please do not hesitate to contact her directly at 
bglinskas@gmail.com
.