8 Reasons For Non-Poets to Attend Poetry Open Mics
Not everyone loves literature in the loud and proud, raise your banner, "I was an English major!" kind of way. Many literature-lovers are the closeted bookworm variety; they are the escape artists who slip away to the inner worlds which literature so magnificently delivers. Outside of book clubs, groups formed specifically to turn reading into a casual, social activity, and classroom environments, spaces reserved for the academics to hold their brainy discursive discussions, there are few environments where one might exercise their love of literature in an interactive setting.
The space you're looking for (or should be looking for) is hosted at any number of community Poetry Readings.  First, I will provide my own list of reasons why you should attend one of these magical evenings; then, I'll provide you with a few ideas about where you might venture for yourself.
It's basically one big taste test.
If you don't typically read poetry, you can consider poetry readings an atmosphere where you can acquire your taste–where you can learn about your personal poetry palette (I, myself, love a little alliteration). Though the academics may classify many of today's poets under one big "contemporary" umbrella, this classification should not lead you to believe there is some sense of uniformity between us. No two readings, poets, or poems will be the same!
Challenge your views: get a little cultured!
One of the biggest inhibitors to one's perspective is the simple inability to lead multiple lives at once.  Art is often a product of experience and perspective, and so, through art, we are able to empathize with others who are from vastly different backgrounds. Poetry can be political, and that is not a bad thing whatsoever.
Support local artists.
It means a lot to poets, especially emerging voices, that people (other than fellow poets) come to hear their work. Many use these opportunities as a tool for gaining confidence in their craft. Give it to them. Snap until your finger pads fall off!
Participate in your community.
Wherever you've wandered into, there is likely a warm, inviting feeling to the room, and perhaps a host that asks you to be kind to one another and have an open mind. The poets and fellow attendees here are likely more or less your neighbors. You may very well make friends here.
Elevate your conversations to the art of discussion.
Opening yourself up to this kind of experience can strengthen your ability to strike up meaningful conversations with close friends whose conversational topics tend toward gossip and small talk. Maybe you pack up the courage to approach a stranger whose work really moved you.
Take a break from your TV.
Let's be honest: most of our faces are glued to screens for the better part of any given day. Give your eyes a break.
Don't wait for the weekend to step out. Make weeknights remarkable!
We all know about Movie Monday and Taco Tuesday, sure, but where does poetry fit into all this weekday activity business? Well, there are a number of ongoing readings during the week. All the events listed here are free, though you'll likely end up with a yummy beverage of some type.
It's like story time for adults.
Truly, I enjoy nothing more than hearing others' stories. Through the medium of poetry, we are given a unique delivery method through which to tell our stories.  Poets are often putting themselves in very vulnerable positions by divulging what they've written with an audience, and that is an admirable act. Hear what poets feel compelled to share.
Alright, if you've read this far (and if I've thoroughly convinced you that Poetry Open Mic Nights are awesome, check out a few of the locations provided below. *
Happy Hour & Reading
@ Blush and Blu Bar
(1526 E Colfax Ave)
Every Tuesday, sign-ups at @7:30, starts @8PM
Open Mic
@ Innisfree Bookstore
(1301 Pennslyvania Ave.)
Every Tuesday
sign up to read @6:30, event starts @7PM
Various Open Mics
@ The Gypsy House
(1279 Marion st. (the corner of 13th and Marion)
1st, 3rd & 4th Tuesdays & Last Wednesdays
sign ups @7:30PM, event starts @8PM
Open Mic
@ Tattered Cover
(2526 E Colfax Ave)
Every Last Tuesday
sign ups @6:30, event starts @7PM
Open Mic
@Mercury Cafe
(2199 California St.)
Every Friday Night
sign ups @9:30PM, event starts @10PM
Cafe Cultura Open Mic
@Inner City Parish
(9th & Galapago)
Every 2nd Friday
sign-ups @ 6:30, event starts@7:30PM
Happy Hour & Reading
@Book Bar
(4280 Tennyson Street)
a part of their "first saturday series"
Happy Hour starts at 4:30, reading starts at 5:30
*If you would like to get in contact with me about promoting a poetry reading event that was forgotten here, please do not hesitate to email me at bglinskas@gmail.com. I'll be happy to add your event/venue location to the above list (provided it's free and in the Denver area).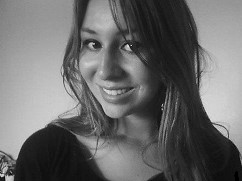 Bianca Glinskas hails from sunny Southern California, where she studied English and Creative Writing at California State University of Long Beach.  Bianca's work has appeared in literary magazines including 
Knock Your Socks Off,
Ordinary Madness,
 and 
Glass Mountain Magazine.
Bianca's column arose as a natural attempt to answer the call of Denver's lively, pulsating literary scene. When she isn't reading or writing, Bianca enjoys doing yoga, playing viola, exploring the outdoors, drinking at breweries, and holing up in coffee shops for hours on end. For any inquiries regarding Bianca's coverage of Denver's literary scene, please do not hesitate to contact her directly at 
bglinskas@gmail.com
.