5 Things to Know Before Moving to Denver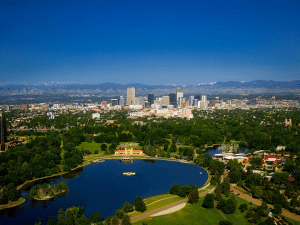 Denver is a gorgeous city with plenty of activities year-round. From the sprawling mountains to the peaceful and serene lakes, you really can't beat Denver as a place for young professionals, established families, or retirees. Of course, like all major cities, there are subtle nuances that you should be aware of before you make the trek to the Mile High City. Here are a few things to keep in the back of your head as you make your move.
1. The Cost of Living Continues to Rise
Denver remains somewhere in the middle when it comes to overall living costs. Colorado is certainly not as affordable as places like Texas or Tennessee, but it's a bargain compared to California and New York. Amelia Josephson of SmartAsset put together some cost-of-living figures for Denver back in May. Her estimates found that the average home is around $438,000. Healthcare costs about 13 percent more than other places in the US, and you'll need an income of approximately $92,000 to live comfortably if you're part of a family of four.
2. Cannabis Is Legal
In Colorado, the use of cannabis for medicinal and recreational usage has become legal, though that doesn't mean THC use is rampant. Rest assured that it's illegal to smoke cannabis in public, though you're likely to notice a variety of storefronts and coffee shops in and around Denver that sell cannabis products. And just like alcohol, cannabis can only be purchased by adults who are at least 21 years of age. Colorado does have a DUI law in place specifically for the consumption of THC, with the legal limit being 5 nanograms per milliliter of blood.
3. The Weather Is Unbelievable — and Unpredictable
If you've yet to step foot into your new hometown, you will be more than pleasantly surprised to find out that sunshine is a staple of everyday life. While not every day is cloud-free, the sun peeks out for at least an hour 300 days each year. However, given the elevation, the weather can be very unpredictable. It might be 70 degrees and sunny one day and snowing the next.
4. Everything Is Beautiful
It may sound a little biased, but between the Rocky Mountain National Park, the Denver Art Museum, and the vast blue skies, you don't have to go far to get an eyeful of something beautiful. A walk through downtown will reveal tree-lined streets, horse-drawn carriages, and a horde of happy people who are just glad to be here.
5. The Schools Are Great
Denver public schools have just under 10,000 teachers and around 171,000 total students. This makes for about a 17 to 1 ratio, which allows each educator the opportunity to truly get to know their students. Denver has a college readiness index of 8.2, which is considerably higher than many other metropolitan areas. In other words, Denver is adept at educating the next generation and is known for providing a welcoming environment for all.
Whether you're coming for the outdoor activities or the liberal lifestyle, Denver has a little something for everyone. We'll close by saying "Welcome Home!" and by sharing a few local resources to help you get to know your new hometown.
Daycares: Care.com
Local doctors: Colorado Department of Health Care
Grocery stores: (highest rated) Trader Joe's 661 Logan Street | Pete's Fruits & Vegetables 5606 E. Cedar Ave
Things to do: Visit Denver
Public transportation: Regional Transportation District
Libraries: Denver Public Library East 29th Avenue Town Center
Employment resources: Center for Work Education and Employment (303) 892-8444
Guest post by Natalie Jones