The Yellow Rake's 15th Anniversary Party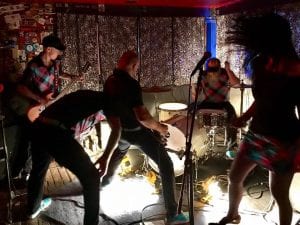 Next weekend, Hi-Dive is hosting The Yellow Rake's 15th Anniversary Party. Good news—you're invited! The celebration starts at 8:00 and includes performances from four local bands that you will absolutely want to tell everyone at the office about on Monday.
SPELLS is a five-member punk band hailing from "The Queen City of the Plains." Let's just take a second to appreciate the fact that Denver got dibs on that one before Omaha. SPELLS released their debut EP, Take Time/Slice Away, in 2013. That was followed by an assortment of EPs, LPs, multiple "cassingles," and a full-length album. Keeping sacred traditions alive and well, SPELLS has a penchant for analog methods, releasing most of their music on vinyl or occasionally cassette. Their songs are grungy, short, and punchy. Overall Grade A punk rock.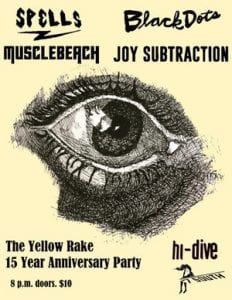 Black Dots is a punk band built with repurposed members from other epic bands including Vena Cava and The Achievement. Assembled in 2010, they released their first EP, Songs, in 2011. Their first full length album, Again & Again, dropped the following year. Their music is influenced by bands like Fugazi, The Minutemen, Otis Redding, and Motorhead. They have a super distinct sound that's been described as heartfelt and introspective. Their latest album, Everything Has Gotta Change, dropped in January. It was well worth the wait.
Muscle Beach describes themselves as "heavy Viking bar rock meets Mad Max highway noise punk," and I think that hits the nail on the head. The trio burst into the Denver underground scene in 2013 with a five song EP titled, Pipe Dreams. A full length, self-titled album came shortly after in 2015. Their music is hard hitting and visceral; a great example of post-hardcore with aggressive vocals and frenzied guitar riffs.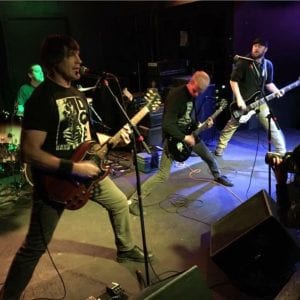 Joy Subtraction is a band from everyone's favorite city. Their blue collar, nihilistic punk ballads are the love songs America needs to hear. Since 2012, they've been tearing up venues with a vengeance. Their latest album, Hate Will Keep Us Together, is perfect for any occasion. It's packed with hits like "Waterloo (Not The Abba Song—This One's Way Worse)," and "On Our First Date, Our Bodies Went From Aroused To Awkward After A Failed Attempt At Sexual Congress (There Was No Second Date)."
Joy Subtraction tends to be pretty against self-promotion, so they would probably want to tell everyone not to come to this show, and if you do go, definitely leave before their set, or else.
Hi-Dive is an awesome little bar right off of Ellsworth and South Broadway. It's cozy and dimly lit, with a small stage and an impressive sound system. It's the perfect place for this lineup, and none of these bands are strangers to this dive, so come make them feel at home. The show starts 8:00 on Saturday, August 10th. Tickets are on sale now.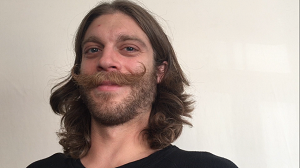 Jared is a local content contributor and aspiring author. He was fortunate enough to grow up in Golden, Colorado and graduated from MSU Denver. While an insatiable love of travel lures him all over the world, his roots remain firmly planted here. He enjoys writing short stories, poetry, children's books, societal observations, and everything else. A nature enthusiast and sunshine connoisseur, Jared is perfectly at home on any mountaintop or patio. He frequents art galleries and concerts, poetry readings and breweries, museums and bookstores. When he isn't making neighbors cringe at his musical attempts he can be found on a snowboard or sailboat, depending on the day. A perpetual adventurer and eternal patron of the road less traveled.