3-Day Colorado Road Trip Adventure: Day 2–Ouray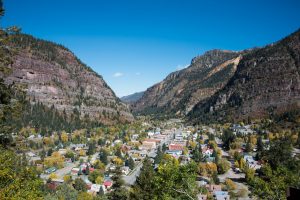 Day two of my 3-Day road trip set me off to Ouray, also known as the Switzerland of America.  I decided to stop at their Visitor Center on Main Street (worth the stop).  I was assisted by Heidi who was very helpful and provided me with a map of the area that showed the streets of the town and Perimeter trail, a 5.9 mile trail that wraps around this tiny quaint city.  She marked on the map must see sights throughout the trail such as Cascade Falls and Box Canyon Falls, she also shared the shortcuts to each location if I didn't desire to hike the entire trail.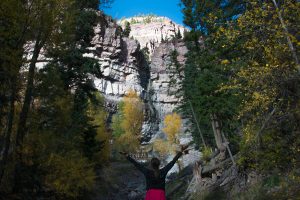 Since I wanted to make most of the one day I was to spend in Ouray, I made the decision to not hike the entire 5.9 mile loop (rated moderate-strenuous) around Ouray but to just hike to Cascade Falls (hike to it rated easy and busy). Luckily my lodging was on 7th Avenue, just one block from 8th Avenue which takes you to the entrance that provides straight access to Cascade Falls.  You can also drive there, plenty of parking spaces available.  It was a slightly steep but short hike (about 5-minutes–depending on how slow or fast you are–I'm about average) to the bottom of the falls.  Cascade Falls was about a 100-foot waterfall with a slight trickle of water running down its cliffs and although it wasn't this massive flow of water gushing and splashing down into the base below it was still quite a sight to see. There is a gazebo with a bench at the base of the falls where you can sit, relax and enjoy the view.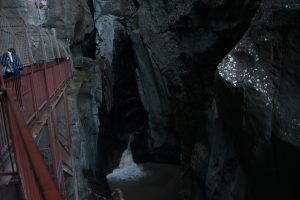 You can also drive up to the entrance of Box Canyon Falls and there is also plenty of parking spaces there.  Box Canyon Falls ($2-$4 access fee) is considered Ouray's own wonder of the world, the waterfall flows down into a canyon you can access by foot. There is a set of stairs that starts at the halfway point of the canyon and you can take the stairs all the way to the bottom where you can walk out into the canyon and have an intimate close up shot of the waterfall.  There is a separate walking trail that guides you to a small walking bridge that overlooks the waterfall providing an above awestruck view below and beyond…a must do!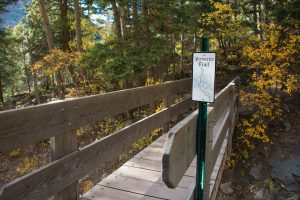 Just be aware… if you choose to hike the entire Perimeter trail it contains some narrow paths with high drops along the hillside therefore bear that in mind if bringing children or if you are afraid of heights.  Temperatures will vary along the hike due to different areas of elevation…make sure to have appropriate clothing and shoes, you will also have no cell phone reception.
After hiking to both waterfalls I changed into my swanky swimwear and hopped on over to the Weisbaden Hot Springs Spa and Lodgings, conveniently located only one block from where I was staying (the town is small and walkable). This particular hot springs is also accessible to the public and not just their guests. The cost is just $15 (includes towel), they only provide an open shelving room to place your belongings, so you might want to leave your belongings in your car or in your hotel room.  You also have access to showers and changing rooms.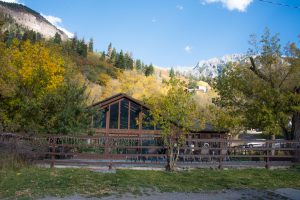 Weisbaden provides you access to a cozy underground hot springs vapor cave and a spacious outdoor hot springs pool.  Be warned though, it is very hot and muggy in the cave, about 108 degrees so you may find it difficult to breath at first but it's certainly an awesome experience (the extreme heat in there might damage your smartphone, suggest you leave it out).
After 10 minutes in the cave (that's all I could handle) I was ready to hit the outdoor (ranges between 102 to104 degrees) hot springs pool. It was a crisp and clear night and I had a phenomenal view of the San Juan Mountains towering all around me. The outdoor area contains patio tables with chairs where you can eat or place your belongings and plenty of noodle floats if you wish to just lay back and float around.  It's also nicely decorated with white Christmas lights wrapped around their entire wood fence that just gives you this magical and cozy feeling.  The water temperature was perfect, it felt wonderful having the water envelope my whole body and soothe my sore muscles from hiking. These are natural hot springs, not recirculated, not chemically treated and pure in nature therefore providing many healing qualities.
This time of the year the hot springs are not heavily populated so if wish to have a bit more privacy and not be surrounded by massive amount of folks then the Fall might be a good time for you to visit.  But no need to just stick to the Fall season, Ouray is a cute as a button town with beautiful surroundings and year round fun activities.  For more information on what to do for fun or to get a history lesson on Ouray go to http://www.cityofouray.com/visitors/index.php.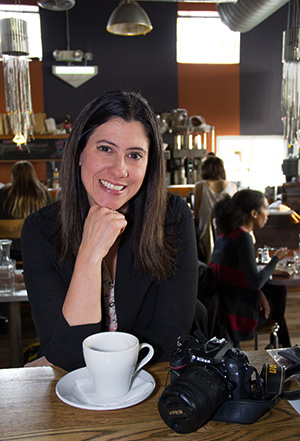 Alida is a photojournalist, photographer and world-traveler.  In 2015, she made Colorado her home after serving 20 years in the Air Force to pursue her love of photography on a full-time basis.  She specializes in Architecture, Real Estate, Lifestyle and Travel photography.  She holds a B.A. and M.A. in Business as well as an AAS in Photography.  Traveling is one of her biggest passions, she has visited 28 countries and continues to mark off locations from her bucket list.  During her free time, she enjoys traveling, photographing and exploring new places, and meeting new people along the way.  She calls herself a "food and adventure junkie" and loves to capture fun and special moments with her camera.  You may find Alida at a local coffee shop enjoying a cup of coffee, enjoying live music at a local bar along with friends with a glass of wine in hand and a plate full of goodies, hiking one of Colorado's many trails or giving back to the community as a volunteer for a special cause.